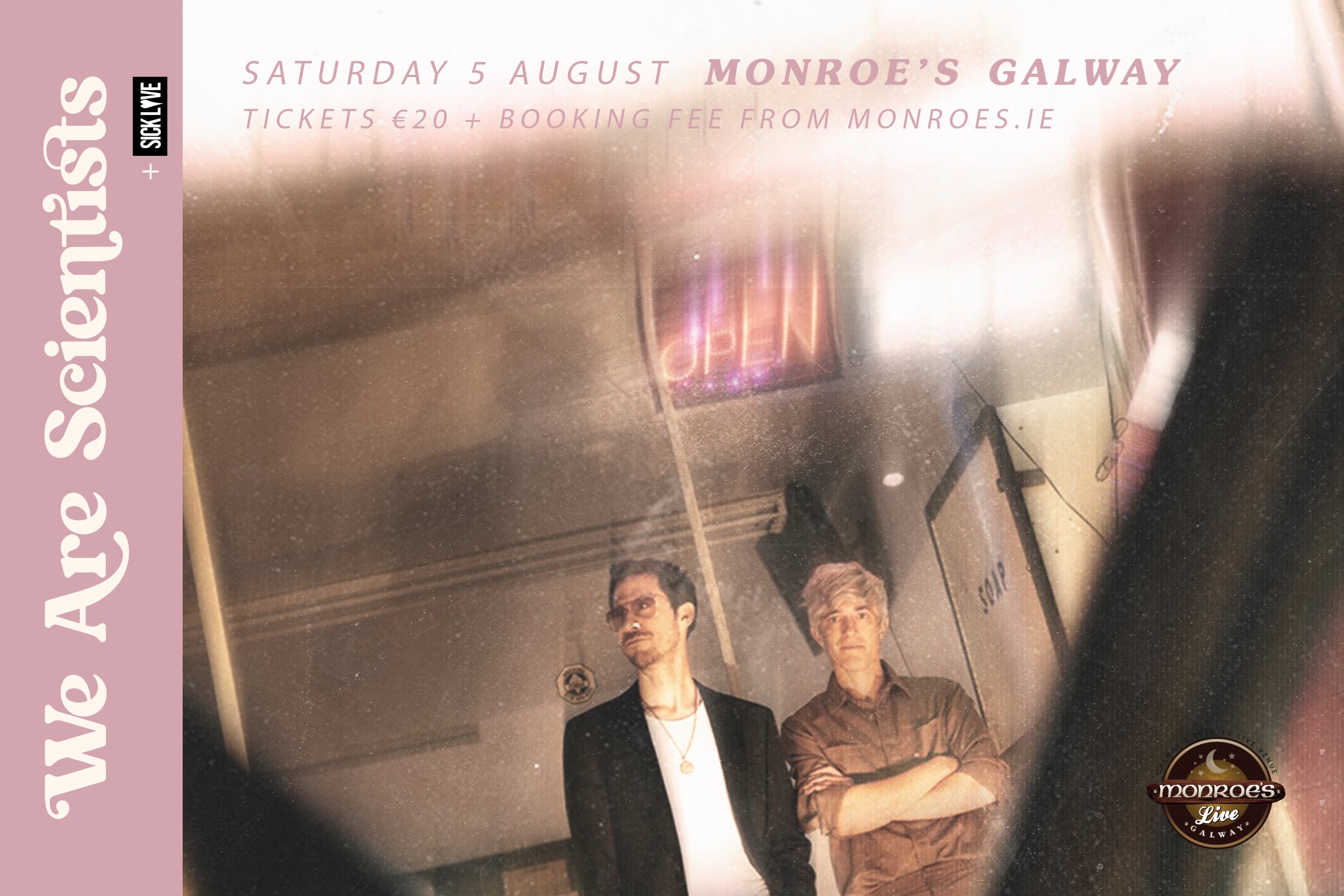 Monroes Live Presents
We Are Scientists
Sat Aug 05 2023
8PM - 11PM
Sat Aug 05 2023
8PM - 11PM
Monroe's Live
Support: Sick Love
Main Room
Monroes Live Presents
We Are Scientists
Please correct the information below.
Select ticket quantity.
Lobes, out 20th January 2023 via 100% Records, will be the legendary New Yorkers' 8th official studio record. The album is expected to see the lovable and dynamic duo at their most playful and creatively free, continuing to open up the band's sound to more of Chris and Keith's own input on production.
The upcoming new album follows on from the weighty indie rock masterpiece of HUFFY in 2021, and whilst the origins of songs written for Lobes began around the same time, the impression so far suggests they grew into an entirely different musical universe. The album's lead single 'Operator Error' is a promising first taste of the fresh direction expected on Lobes and has already received praise in the UK from the likes of the BBC and NME.
Starting by introducing the curious album title, singer Keith Murray said: "Lobes is the name of a cereal of black spheres invented by Chris Cain (don't ask). Obviously, the record has little to do with breakfast, but I loved the associations that the word has with cerebral biology, and the evocation of sci-fi, and a sense of something both fundamentally human and utterly unknowable. The word "lobes" makes me think of the body horror films of David Cronenberg, but also of the chatty comedies of manners of Whit Stillman. I really love the reaction it evokes in people: everybody knows the word "lobes," but for whatever reason, being challenged to define it consistently scares them, or angers them, or makes them laugh, or makes them tell me to "shut up." What a great reaction to such a benign word. It's also pretty fun to say. Lobes."
Formed in 2000 in Berkeley California, the band; made up of guitarist/vocalist Keith Austin Murray, Christopher Ian Cain on bass and Keith Francis Carne on drums; burst onto the scene with the release of their debut album With Love & Squalor in 2005. Since then, the band have released six more albums including Brain Thrust Mastery (2008), Helter Seltzer (2016), Megaplex (2016) and last year's Huffy.