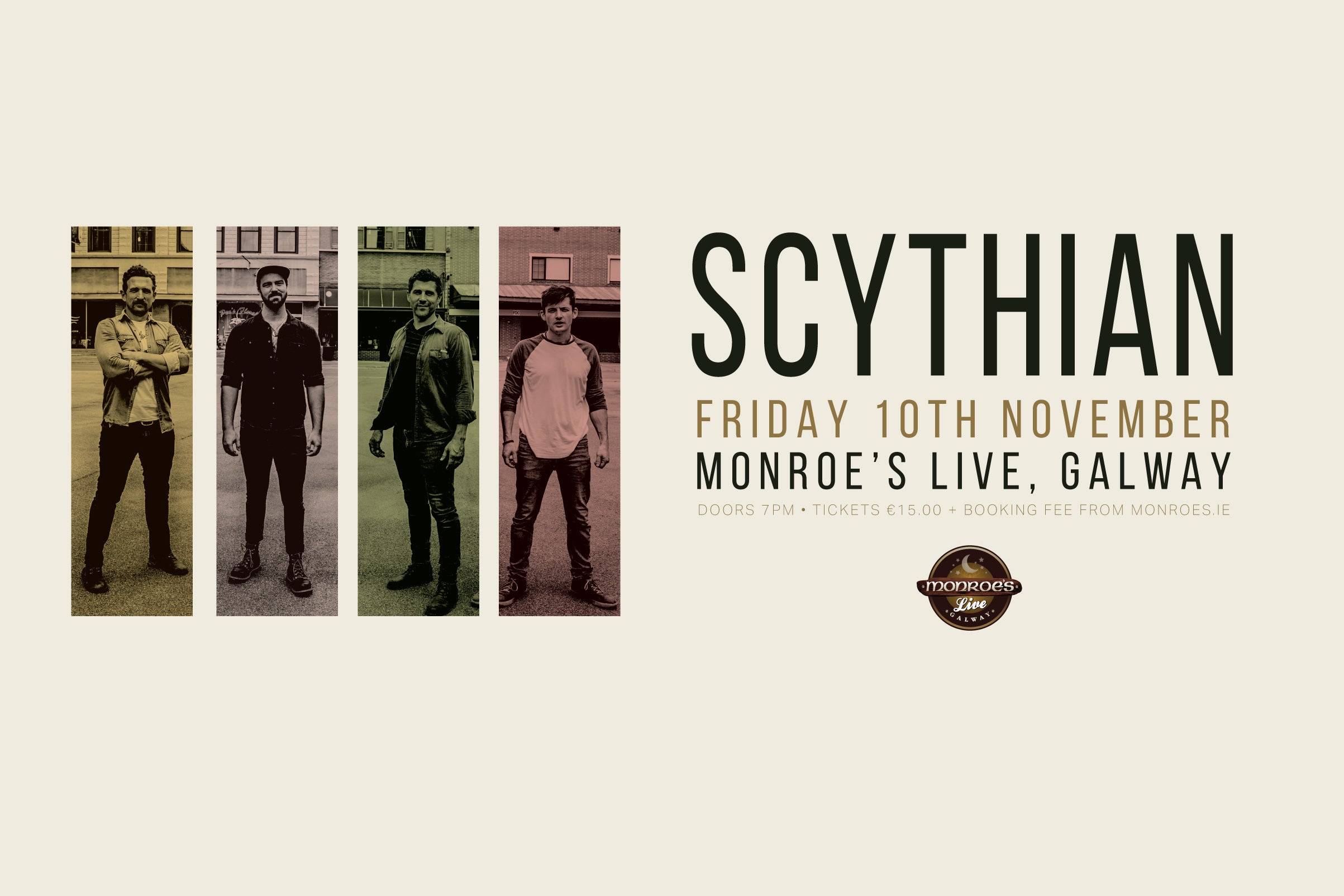 Monroes Live Presents
Scythian
Fri Nov 10 2023
7PM - 10PM
Fri Nov 10 2023
7PM - 10PM
Monroe's Live
14 Dominick St Upper, Galway, H91 WD2H
Galway, IE
Monroes Live Presents
Scythian
Please correct the information below.
Select ticket quantity.
Named after Ukrainian nomads, Scythian (sith-ee-yin) plays roots music from Celtic, Eastern European and Appalachian traditions with thunderous energy, technical prowess, and storytelling songwriting, beckoning crowds into a barn-dance, rock concert experience. 
Nashville's Music City Roots 
says Scythian is 'what happens when rock star charisma meets Celtic dervish fiddling', and the 
Washington Post 
claims "Scythian's enthusiasm is contagious, and shows seem to end with everyone dancing, jumping around or hoisting glasses." The foursome made up of Alexander Fedoryka (Vocals, Fiddle, Mandolin, Harmonica), Danylo Fedoryka (Vocals, Guitar, Accordion), Ethan Dean (Vocals, Upright and Electric Bass, Percussion, Guitar) and Johnny Rees (Vocals, Drums, Percussion) brings various influences together to create a conglomerate which is technically precise and steeped in various folk traditions: The classically trained Fedoryka brothers grew up on Ukrainian folk music and bluegrass, while Ethan Dean was raised on the greats of 60's & 70's folk-rock. Lafayette LA raised Johnny Rees brings a Cajun backbeat to the Celtic-Americana fusion giving Scythian yet another dimension which keeps audiences entertained and moving. Scythian is coming off its most prolific year in 2020 with over 1,000 hours of live streams during the Covid Lockdowns, release of two new albums (Roots & Stones and Quaranstream: The Album) and four new music videos. You have to catch the live show to understand why
The Cammel City Dispatch
said of their Merlefest performance: "[Scythian gives] no quarter in their quest to entertain and bring a joy to their music that gives it an irony-free, wide open feel of manic possibility. The playing is technically brilliant, but it is the energy that carries the day."

Press Quotes:

"Scythian's enthusiasm is contagious, and shows seem to end with everyone dancing, jumping around or hoisting glasses." —Washington Post
"[Scythian gives] no quarter in their quest to entertain and bring a joy to their music that gives it an irony-free, wide open feel of manic possibility. The playing is technically brilliant, but it is the energy that carries the day." —Camel City Dispatch (Winston-Salem, North Carolina)
"When Rock Star Charisma Meets Celtic Dervish Fiddling" -- Nashville's Music City Roots
 'Scythian has reinvented folk rock in America' -- iHeart Radio's Arroe Collin
"For the past 20 years we've relied on hip hop to get people on the dance floor, when in reality they just haven't discovered [Scythian] yet."—Arroe Collins, iHeartRadio
Scythian has made MerleFest a second home. "These festival favorites are deeply rooted in Gaelic and empowered with their own musical touches. If you stay seated throughout a Scythian set, you may want to check your pulse."  - McDowell News