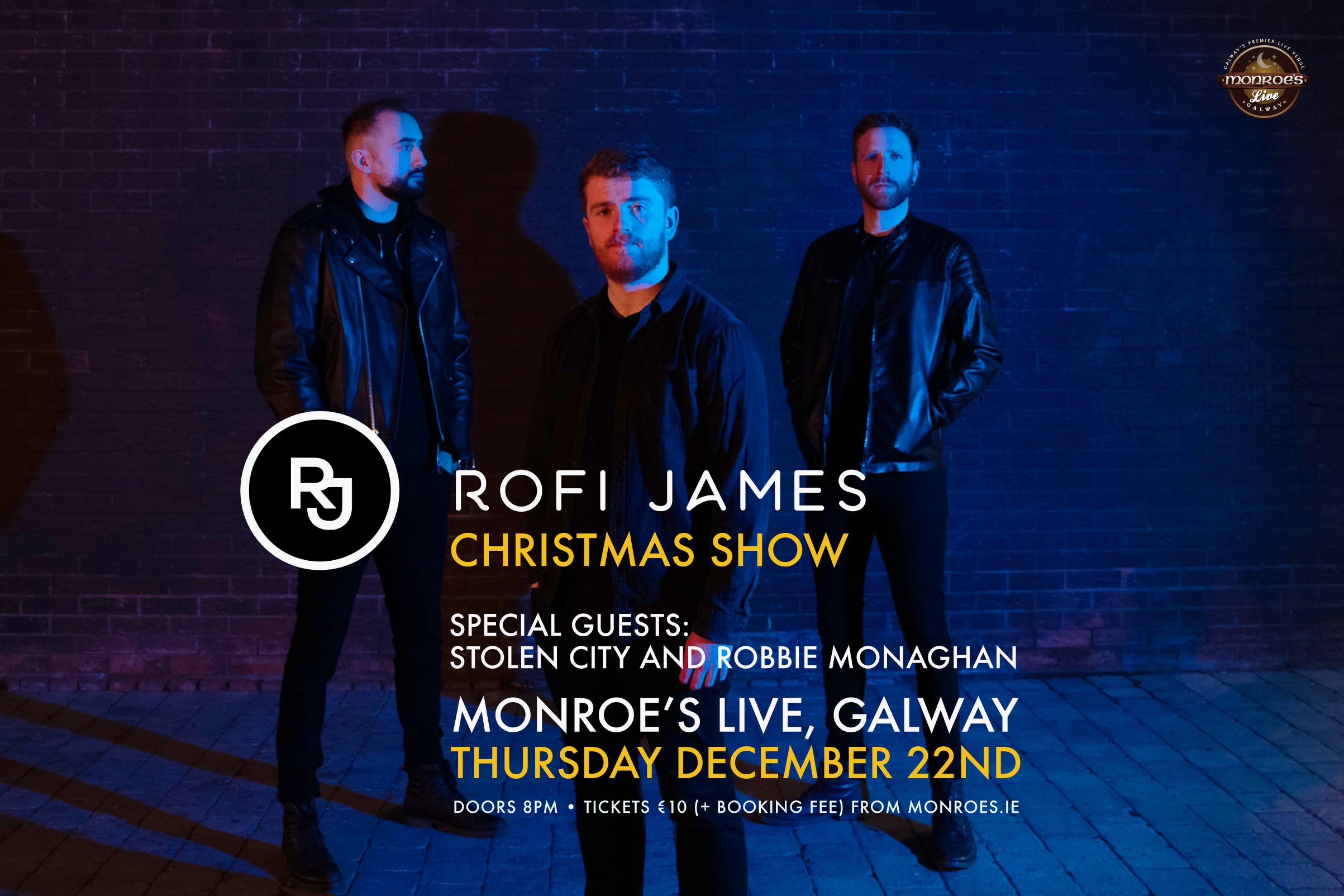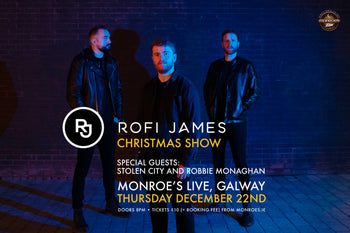 Monroes Live Presents
Rofi James
Thu Dec 22 2022
8PM - 11PM
Thu Dec 22 2022
8PM - 11PM
Monroe's Live
Support: Stolen City & Robbie Monaghan
Main Stage
Monroes Live Presents
Rofi James
Please correct the information below.
Select ticket quantity.
It began during the days of teenage discos, bad haircuts and chronic debs dresses, somewhere amongst the green fields and traffic lights of Galway city - where an unlikely storm was brewing. Washed ashore by the waves of the Atlantic Ocean, a red haired veteran of Inis Mór, (the largest of the Aran Islands), Rónán Ó Flaithearta met Jamie Murray.
They soon took to the cobbled streets of Galway city with a mutual interest in music and in songwriting. The band would later be called ROFI JAMES - a portmanteau of Ronan's nickname "Rofi-J" and Jamie's actual name, "James".
Rofi James soon began to replace the cold concrete of Shop Street with the local stages of Galway city and in doing so, went on to build a name for themselves on the local scene with well received gigs.
Rofi James began to expand from their acoustic roots, never completely forgetting where it all started but also continuosly improving their sound.
Now a trio, including Ronan(Rofi), Jamie (James), and Joseph Flaherty - Rofi James have have been gathering a strong following in the West of Ireland following the success of their debut singles 'Fool For Your Love', 'Open Eyes' (with Best Single nominations) and follow up singles 'Reason' , 'I Tried' and 'Love Shot'.
The band have played several high profile support slots with established acts including  Picture This, Wild Youth, Hermitage Green, The Riptide Movement, The Stunning, The Blizzards, Brave Giant, Sean & Conor Price and Ryan Sheridan to name but a few. . They have also co-headlined several festivals including RIVERFEST 2018 alongside Irish band LE GALAXIE and have had several sell out headline shows following their debut appearance at Electric Picnic.
In 2019, Rofi James acquired over 3.4 Million Impacts on Irish Radio and over 126,000 Streams on Spotify with regular airplay on RTÉ 2FM, iRadio, Beat 102103, Red FM and various radio stations nationwide.
​Just before the panemic strick, Rofi James have recently finished playing as part of the Galway 2020 Fire Festival, touring across the county of Galway, playing in Clifden, Spiddal, Tuam, Ballinasloe, Portumna and Athenry, playing to nearly 15,000 people across the week. They were due to finish off the week playing at the grand opening ceremony in front of 50,000 people, however the event fell foul to the unpredictable weather of Galway. 
The pandemic continued to wreak havoc on the music industry in 2021, however this gave the band a chance to go back to basics, write & record new material, and organise big plans for the future. They rounded off the year with 2 sold out shows in The Loft venue in Galway.
​Rofi James are currently putting plans in place to make 2022 their best year yet, with several single releases, and a debut album in the pipeline.