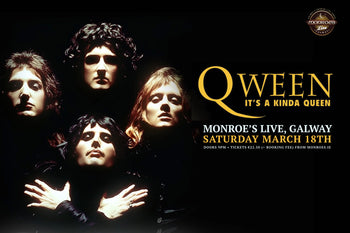 Monroes Live Presents
Qween
Sat Mar 18 2023
9PM - 2.30AM
Sat Mar 18 2023
9PM - 2.30AM
Monroe's Live
14 Dominick St Upper, Galway, H91 WD2H
Galway, IE
Monroes Live Presents
Qween
Please correct the information below.
Select ticket quantity.
When the fans of a band put together a tribute production you should expect microscopic detail but when they're also seasoned performers you can expect fireworks.
Qween's two hour show features a veritable anthology of Queen's greatest hits from Radio Ga Ga to Somebody to Love, performed fully live.
The band formed in 2018 with the members having played together in numerous other guises over the years. Since their debut Qween have wowed audiences with a theatrical rock show that brings the audience right back into the front row of a classic Queen gig.
Qween have gone to extreme lengths to capture the magic of Queen acquiring everything from a tailored lemon leather Freddie jacket (á la Queen's legendary Slane Castle show in 1986) to guitar equipment from Brian May's former technician Pete Cornish. "Queen's music is technically difficult but we're massive fans so we were able to put in the dedication to getting every detail just right" said guitarist Thomas Brunkard.
"We've put everything into making this show as close to seeing Queen as you can get" said lead vocalist, Brian Keville, "we even cover Bohemian Rhapsody's infamous opera section fully live, not even Queen risked that," he added.
The band were featured in national press in 2019 when singer Keville met Pearl Jam singer Eddie Vedder leading to an unlikely Queen cover at Vedder's solo show in the Three Arena. "Somehow he had managed to park his car in a bush and he was so cool looking and so kind and he said all these kind things and he said 'I'm in a group too, I'm in a Queen cover band, I'm Freddie Mercury'. I said can you give me a little something and he sang: 'Day-o', he frightened me almost in to the traffic", Vedder explained at the concert.
Keville is no stranger to playing Freddie Mercury having portrayed the singer in Live Aid drama "When Harvey Met Bob" alongside Domhnall Gleeson's mouthy Bob Geldof. "Freddie had a way about everything he did that is hard to capture. You need to totally forget who you are and create this larger than life persona with total commitment to your audience" said Keville, "a real bushy moustache also helps!".
"We've been bringing the show around the country this year and it's great to finally show it off in front of a home crowd. We will rock you!" said Keville.