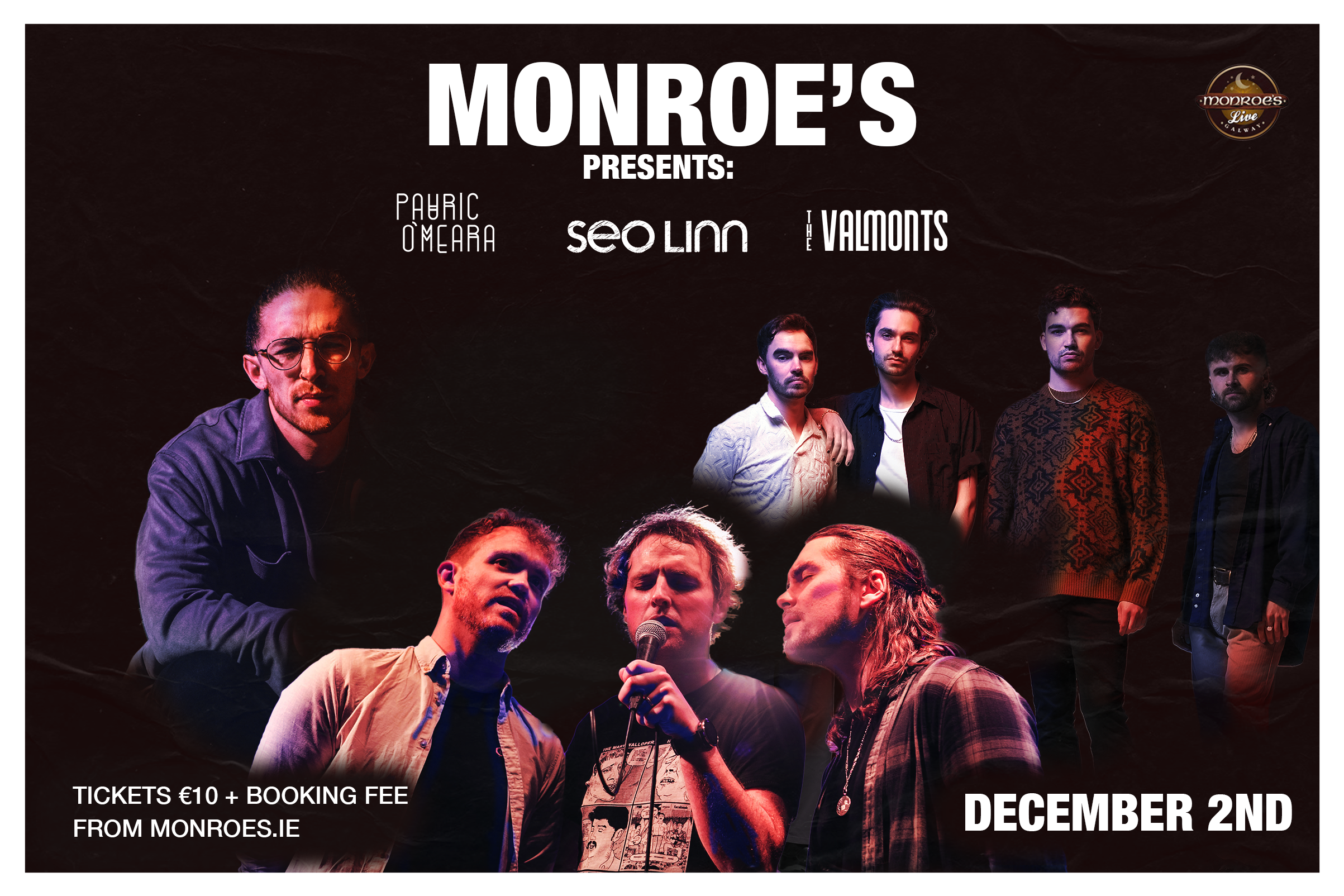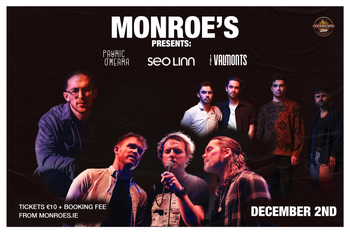 Monroes Live Presents
Pauric O'Meara, Seo Linn & The Valmonts
Sat Dec 02 2023
Doors 10pm
Sat Dec 02 2023
Doors 10pm
Monroe's Live
Standing Show
Over 18's
Monroes Live Presents
Pauric O'Meara, Seo Linn & The Valmonts
Please correct the information below.
Select ticket quantity.
Pauric O'Meara is an independent Pop/Rock singer-songwriter from Co. Tipperary, based in Dublin.

He is known for his raw luring vocal, and the personal journey that both his music and lyrics set a clear path to.

He has been making his mark on the Irish music scene for quite a few years, starting off by supporting bands such as Hermitage Green and Hudson Taylor, to putting on 2 successful headline shows of his own in Dublin in The Soundhouse and Workman's Club, as well as making his Electric Picnic Festival debut in 2019.

Pauric started to gain attention with the release of his EP 'Looking Forward to Hindsight' at the start of 2020 and a single release in 'Techno or RnB' with each track gaining radio and online support.

This has carried into 2021 with his most successful release to date 'Final Say', and his latest release 'All Alright' being supported nationally and internationally, as well as 2 sold out shows upcoming in Winthrop Avenue, Cork on Nov 26th and upstairs Whelans, Dublin on Dec 10th. 

'One of Ireland's most exciting young stars-in-the-making' - Hot Press Magazine
Multi-award winning group Seo Linn formed ten years ago in 2013 while living and working together in the heart of Conamara. Made up of Stiofán Ó Fearail, Kevin Shortall, Daithí Ó Ruaidh and Keith Ó Briain the group came together over their shared love of music, Irish language and adventure. After the release of their version of Avicii's Wake Me Up (over 8 million views on YouTube) the band was projected into the limelight and they've been going from strength to strength ever since. Their unique fusion of traditional and contemporary music and their electric live show have earned them thousands of followers and brought them all over the world, performing and headlining festivals like the Milwaukee Irish Fest in the US, Groundswell Music Festival in Australia, and Celtic Wave Festival in Italy to name a few. The Anuas tour will incorporate songs from the album, along with old favourites and high-energy performances.
To date, Seo Linn's repertoire of songs has amassed millions of views and listens on their various social media channels since the release of their debut album 'Solas' (2017) and their EP 'Marcas sa gCoill/Marcus in the Wood' (2019). Their spine-tingling rendition of 'Óró 'Sé do Bheatha Abhaile' is the most watched version of the song on YouTube with a staggering 8 million views. Their title-track from 'Solas' is currently being studied as part of the Leaving Certificate course in Ireland and songs like 'Buy Me Time', 'Darkness Shines A Light' and 'Bloicíní' have established themselves as firm fan favourites and are cornerstones of their live show. They are regularly joined for the live shows by drummer Ben Wanders and keys/sax/fiddle player Louis Younge.
The Valmonts are a four piece, indie pop/rock band from Galway, made up of brothers Darragh and Keith Whyte, alongside Cathal Sweeney and Tymek Kocurkiewicz. While their influences range from INXS to New Radicals and Prince, The Valmonts succeed in standing out from the crowd by approaching pop music from an angle that is completely unconventional. The unusually candid and honest songwriting makes for a refreshing contrast against their in fectious pop riffs and pulsating rhythms. Bursting onto Dublin's music scene, the boys made their debut performance at Whelan's Ones To Watch. It's already clear that 2023 will be a landmark year for the band jumping right back into live shows with a support slot to Ireland's Eurovision representatives WILD YOUTH, followed by a string of singles and summer festivals. This year is sure to put The Valmonts on the map.
"The Valmonts are taking upstairs by storm with their anthemic indie pop. The Galway lads delivered a set full of bangers to a packed house, complete with a blistering guitar solo on 'Love Overdose'. They've proved up to the task of taking indie pop in an interesting direction." – Tanis Smither, Hot Press
"'Yesterday Kids' makes for an instantly attention grabbing intro from The Valmonts. With a sound so vivid and rich in texture already in place it will be interesting to hear how the band build and evolve from here." – Stephen White, The Last Mixed Tape
"The Valmonts go gunning for daytime radio with 'Yesterday Kids', a pop rock song that's as sharp as the Galway four piece's haircuts." – Stuart Clark, Hot Press