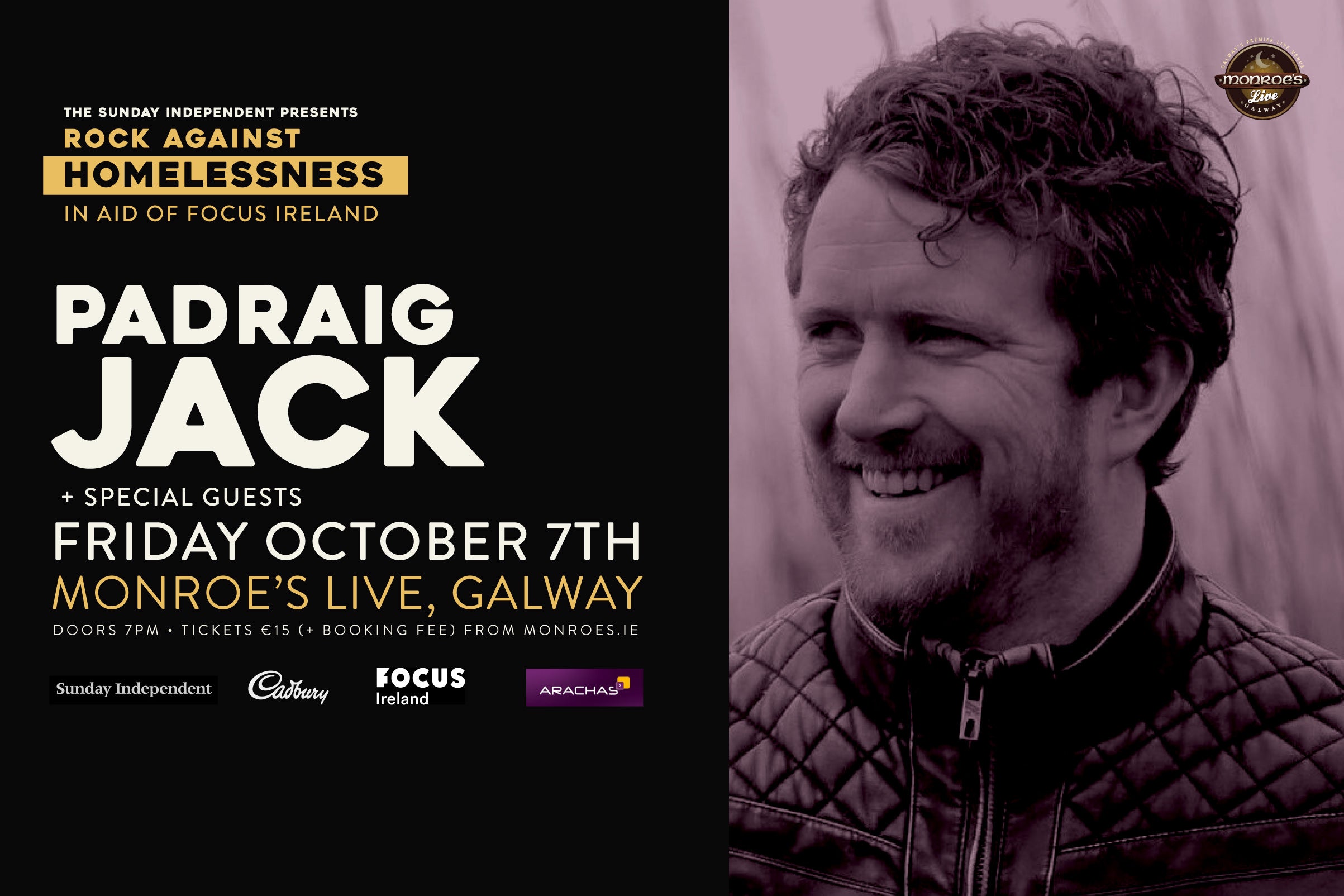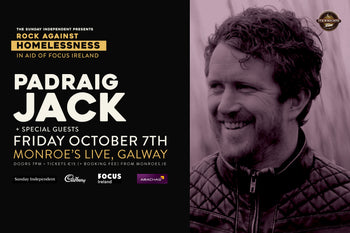 Monroes Live Presents
Padraig Jack - Rock Against Homelessness
Fri Oct 07 2022
7PM - 11PM
Fri Oct 07 2022
7PM - 11PM
Monroe's Live
14 Dominick St Upper, Galway, H91 WD2H
Galway, IE
Monroes Live Presents
Padraig Jack - Rock Against Homelessness
Please correct the information below.
Select ticket quantity.
The Sunday Independent's hugely successful Rock Against Homelessness concert series in aid of Focus Ireland continues this, Autumn.
Cat Dowling plays Rock Against Homelessness at the Sea Church, Ballycotton, Cork on August 19th. Sive performs at the Riverbank Arts Centre in Kildare on September 29th.  Jack O'Rourke plays in Monroe's, Galway on September 30th and Padraig Jack follows in the same venue on 7th October and Pastiche plays The Workman's on 11 November and We Banjo 3 play Artists Against Homelessness in Whelan's on November 12th. 
They follow four very successful fundraising gigs in Dublin, Dundalk, Gorey, Sligo and Limerick earlier in the year. Focus Ireland CEO Pat Dennigan said, 'The support we get from these events is amazing and vital to our work. We need this help now more than ever as there are over 10,300 people homeless and shockingly the number of children homeless has shot up 41% in the last year. The crisis is deepening but it is also important to remember that we are ending homelessness every single day for a family, a couple, or some young people. Every day we help more people to secure a home and leave the nightmare of homelessness in the past and we couldn't do this without events like Artists Against Homelessness.' 
He added that he sadly fears the number of homeless people will continue to rise due to job losses during the pandemic and also the fact that the temporary eviction ban is now over.  Mr. Dennigan concluded, 'Focus Ireland needs to raise nearly 40% of our annual budget through events like Artists Against Homelessness so we really need people to support these nationwide gigs. They are going to be great and will help raise awareness of the issues and give a voice to people who are homeless and others we have helped to secure a home to tell some of their own stories and show it is possible to end homelessness. We at Focus Ireland thank the Sunday Independent, Mediahuis, all the acts for these shows across Ireland, and to the sponsors Cadbury and Arachas Insurance.'  
Peter Vandermeersch, CEO of Mediahuis who publish the Sunday Independent newspaper, organisers of Rock Against Homelessness in aid of Focus Ireland since 2016, had this to say: 'Our company 'Mediahuis' has the word 'huis' i.e. 'house' or 'home' in its brand name. We want to be a warm 'home' for our media in Belgium, The Netherlands, Germany, Luxemburg and, of course, Ireland. More importantly, we believe that every single person has an essential right to a home. The fight against homelessness is in the DNA of our company. That's why, for years already, we have been organising concerts in support of Focus Ireland. So, let's enjoy the music. But more importantly: let's ban homelessness.' 
Songwriter and musician Sive who is performing at the Kildare event on September 29th said, 'There should be no need for anyone to be left homeless in a country like Ireland. There should be no need for anyone to die alone in the streets. If we lived in a more ideal society, where the emphasis was on taking care of everyone's needs regardless of status or background, then the work of organisations like Focus Ireland wouldn't be so widely needed. But it is vital, and that's why I'm honoured to be curating a Rock Against Homeless event in Kildare.' 
Jack O'Rourke will be performing at the Galway gig on September 30th. He said, 'If we don't acknowledge the basic presence of those struggling and remain apathetic instead of pushing our councils and Governments for solutions to solve the crisis, then we're losing more of our already diminishing humanity. Caitríona Twomey who runs Penny Dinners in Cork is a hero - giving food, hope and a little light to our homeless community.'
Singer/songwriter Padraig Jack has already written about homelessness and mental health in his single 'Streetbed Ridden' released in 2020. He is performing at the Galway show on October 7th. He opines, 'It can't be a good idea to allow housing to be traded and be treated as an asset, whether everyone in the population was comfortably housed or whether, as is the case in Ireland now, so many are without housing and so many more are a rent increase or missed pay cheque away from losing the roof over their head. More specifically I feel very lucky to have never experienced being homeless. I think it's important that we continue to support organisations like Focus Ireland who are working tirelessly to ensure fewer people are living on the streets.' 
Speaking ahead of their gig in Whelan's in November, Enda Scahill of We Banjo 3 said, 'One measure of maturity in society is how well we care for our vulnerable. Focus Ireland's tireless advocacy and support for our homeless is a shining example to all of us. We hope to fill Whelan's to the rafters for a night to champion Focus Ireland and the work they do.'
Cat Dowling plays the Cork event in August. She said, 'There are so many amazing people in Ireland who do incredible work for the homeless. These are the real unsung heroes. There are so many vacant homes in Ireland. We must address this. We must reframe how we think of the homeless crisis. We can find a solution. Homelessness and mental health go hand in hand. It takes a really tough spirit to survive the streets and to have no home. We all deserve dignity.'
Finally Alan English, Editor of the Sunday Independent said 'Some of the most important work being done in this country today is being carried out by Focus Ireland on behalf the homeless and those at risk of homelessness. It's an organisation that greatly deserves Ireland's support and I'm very happy that this series of concerts, supported by the Sunday Independent, is raising both funds and awareness. They also feature some fantastic artists, wonderful Irish performers who are giving their time and talent so generously.'
In mid-September another three Irish acts will be announced for shows in Dublin and Donegal.
Huge thanks must go to all the acts who have played this series of gigs so far: Wallis Bird, Kojaque, Damien Dempsey, Shiv, EFE, Curtisty, Toshin, Odhran Murphy, Moxie, Dervish, Pauline Scanlon, Seba Safe, Honas, Strange Boy, Hazey Haze, SmallChurch, Enda Gallery, Jayne, Willzee and Deviant.