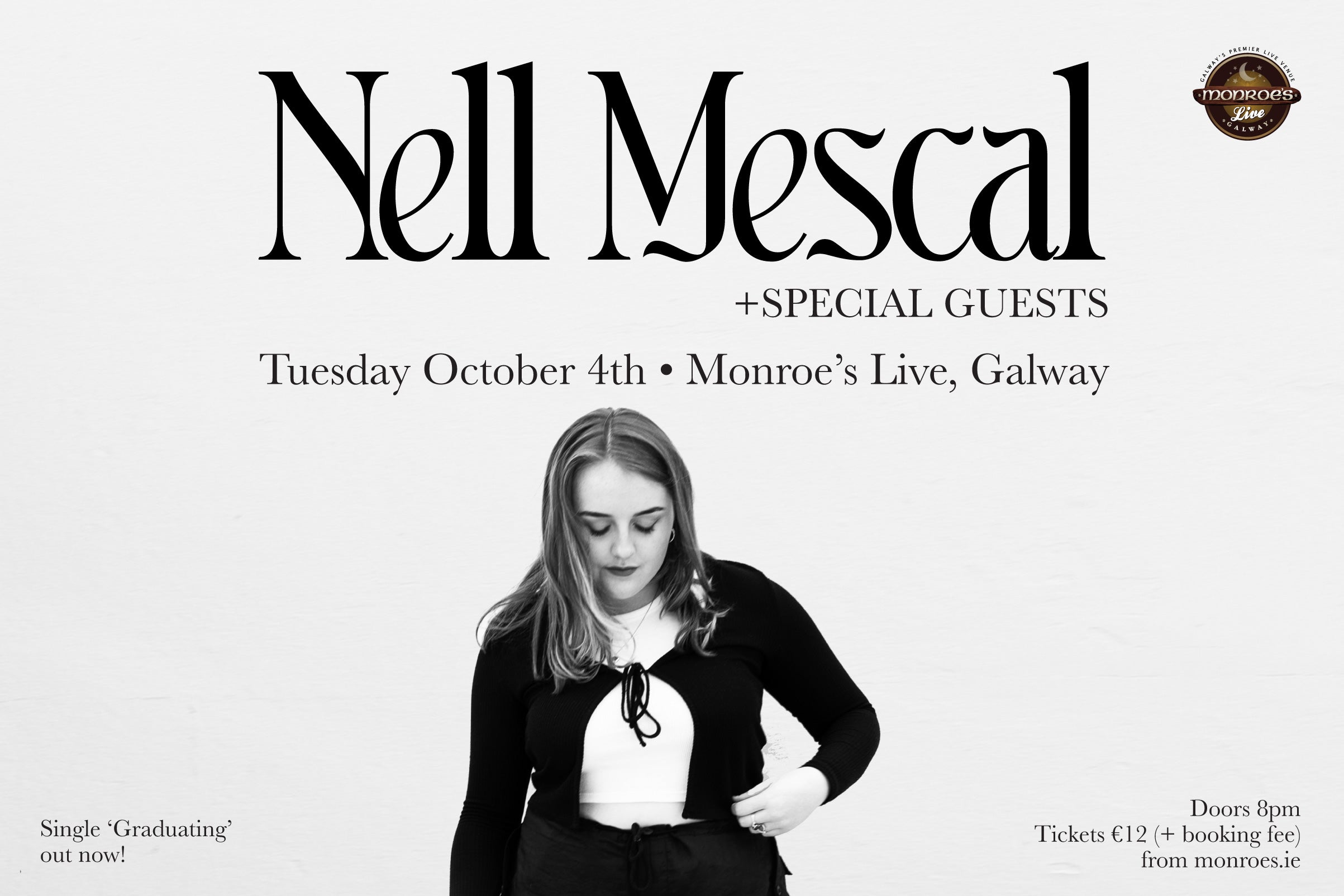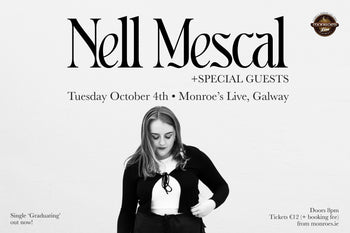 Monroes Live Presents
Nell Mescal
Tue Oct 04 2022
8PM - 11PM
Tue Oct 04 2022
8PM - 11PM
Monroe's Live
Backstage Venue
Plus special guests
Monroes Live Presents
Nell Mescal
Please correct the information below.
Select ticket quantity.
Nell Mescal is a 19-year-old singer and songwriter from Maynooth in Kildare, Ireland. Today, she releases her debut single, 'Graduating'.
 "The song is about feeling like you're supposed to be sad about something but you're not. Then feeling a little bit angry, I suppose and trying to turn that anger into something a little less all-consuming. Just wishing that some experiences were nicer" says Nell.
Nell Mescal has been singing all her life and has been performing in groups and choirs for as long as she can remember. This young emerging talent began writing music when she was just 13 years old and finally took the decision to make music her career during the pandemic, something that in hindsight, has given her the time and space to focus on her sound and what she wants to articulate in her songs. 
Since leaving school, Nell has now moved to North London and found herself surrounded by other young creatives and kindred spirits. Many of whom are helping Nell to discover more about what she's capable of, are collaborating with her and giving her a thirst for knowledge that will allow her to take creative control of her future as a musician. One such acquaintance is another young rising female star, music producer Steph Marziano, who produced 'Graduating'.
Nell has often tested demos and covers across her social platforms, steadily growing an enviable fanbase for an artist who is at the very beginning of her career. Her self-released 'Missing You' also sound-tracked the 2020 Christmas ad for Brown Thomas – Ireland's answer to Harvey Nichols.
Her first official release, 'Graduating' effortlessly blends the intimate with the epic, with Nell's spine-tingling vocal at the forefront. "I wrote Graduating in an hour sitting on my bed in my pyjamas and made a little lo-fi demo. It felt genuinely real and very much me, because I was alone on the piano for that hour, just needing to vent" explains Nell about the birth of the song. "I ended up really loving it and sent it to some friends, family and my manager and everyone really liked it!! It just felt right to release this song; it's so important to me and a little bit scary because it's quite personal!".