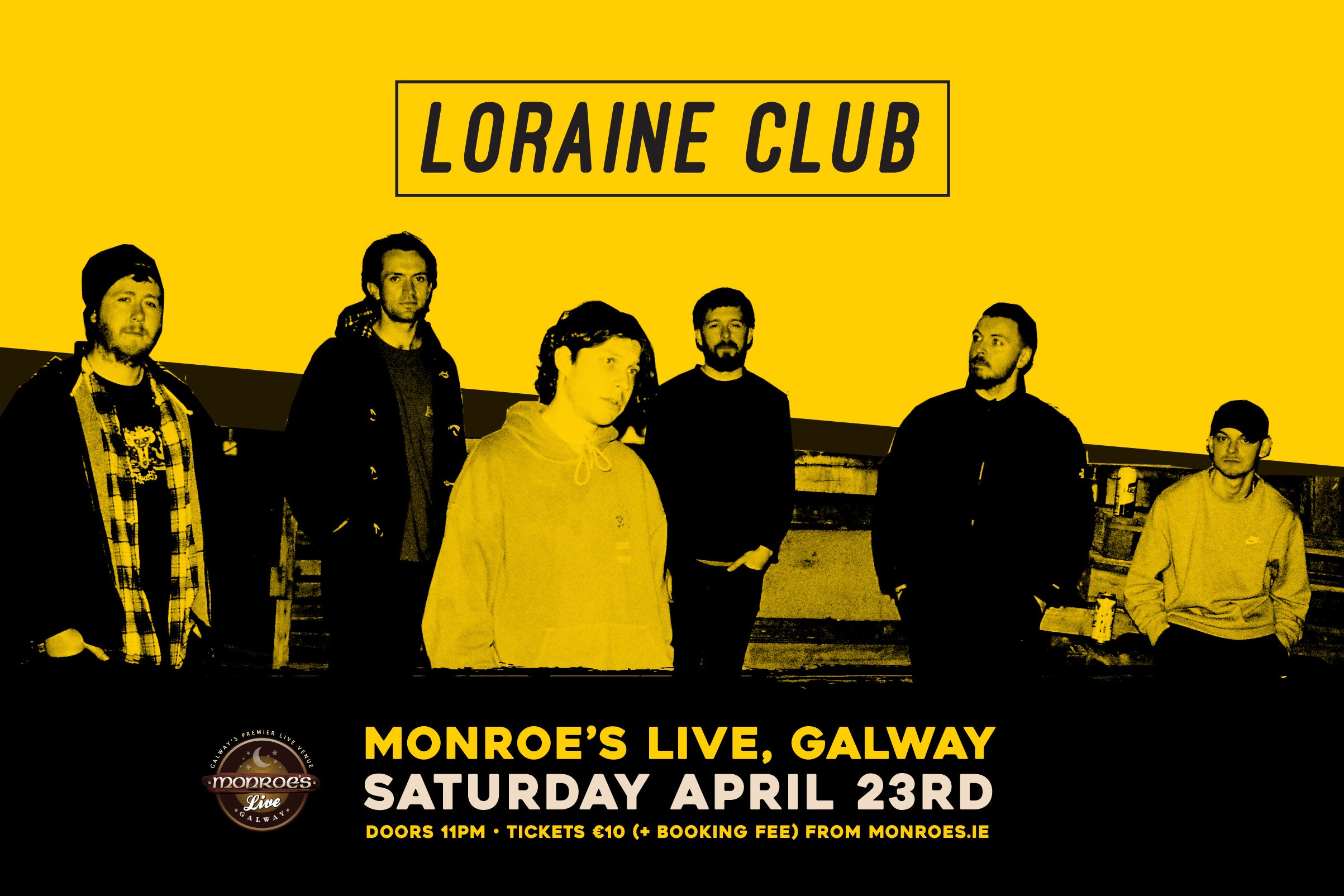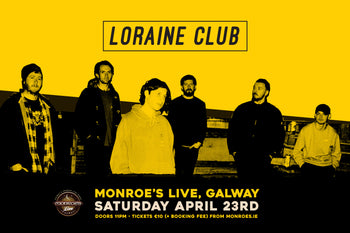 Monroes Live Presents
Loraine Club
Sat Apr 23 2022
11PM - 2AM
Sat Apr 23 2022
11PM - 2AM
Monroe's Live
14 Dominick St Upper, Galway, H91 WD2H
Galway, IE
Monroes Live Presents
Loraine Club
Please correct the information below.
Select ticket quantity.
Loraine Club are a band from Dublin Ireland consisting of 6 core members and have spent the past years carving a name for themselves with a string of releases garnering support from artists and media outlets throughout Ireland and the UK.
The band originally started informally, when brothers Jordan and Zac Curtis began writing together after a collaboration between their two previous bands in 2015. This sparked the inspiration for a new project.
The next years were spent building up a collection of songs and joining forces with friends Jonny Halpin, Brian Smith, James Connolly and Mick Keeley, All whom they had played with in previous indie outfits over the years. The goal this time was to bring something a bit different to a very guitar-driven music scene at the time in Dublin.
Two years (and a pandemic) later, Loraine Club released their first EP "Desire" fusing elements of popular soul, hip hop, electronic disco and 90's RnB they create a sound that is very much their own.
The EP was produced by the bands very own Zac Curtis also known as UKG Producer Prozak who himself has released a successful EP "Make Me Feel" on the Shall Not Fade label. The young producer has been busy this time turning his hand at songwriting and even lends himself on vocals and keys on the EP.
As mentioned, the band have released a handful of singles in the last 2 years. Their track 'Disco Biscuits' was championed by Phil Taggart of BBC Radio 1 who described it as "Disinfectant Disco". Other Loraine Club releases have seen support from taste-making Irish blogger Nialler9 and RTE 2FM radio hosts Dan Hegarty and Tara Stewart to name but a few.
Sold out live performances in famous Dublin venues such as Whelan's and The Workman's Club saw Loraine Club being invited to join internationally acclaimed act Friendly Fires at their headline show in The Academy, Dublin. The band have also performed at mini-festivals and pop-up venues around the country with a live show that is rehearsed to fine detail while also bursting with energy and atmosphere.