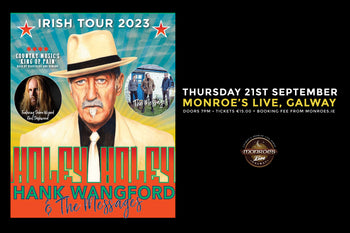 Monroes Live Presents
Hank Wangford & The Messages
Thu Sep 21 2023
7PM - 9.30PM
Thu Sep 21 2023
7PM - 9.30PM
Monroe's Live
14 Dominick St Upper, Galway, H91 WD2H
Backstage Venue
Monroes Live Presents
Hank Wangford & The Messages
Please correct the information below.
Select ticket quantity.
Hank Wangford & The Messages / Sept' 2023-Irish Tour



Hank Wangford, the twisted Godfather of the English alternative country music scene, has been picking at the dark and troubled soul of Country music for more than thirty years.

Hank's messianic derailment onto Country music came from befriending Gram Parsons in the early seventies. After this he spread the word with two groundbreaking TV series, the first on Country music in Britain, "HW's A to Z of C&W" and "Big Big Country".

In late 2022, Hank joined with The Messages and special guest and Leitrim giant, Seamus O'Rourke to play two fabulous concerts. Inspired, he has invited The Messages to saddle up in September for a handpicked herd of dates, commencing at the 46th Clifden Arts Festival on Monday 18th September.

The Messages are Donegal's Seanan Brennan (KÍLA) on guitar and  bouzouki, Denise Boyle on fiddle and mandolin (SíFiddlers) and Cavan lass, Fiona Maria Fitzpatrick on harmonies and guitar.

The show will feature songs from Hank's latest album Holey Holey, (the artwork for which is by Connemara Artist Joe Boske), and shiny new tracks from his forthcoming album, Promises Promises, due for release in November… plus songs from his extensive back catalogue, and featuring original songs and tunes from The Messages.

His albums on vinyl and CD can be streamed and his TV series are available on the Hank Wangford channel on YouTube and beyond, and his two books are "Hank Wangford Vol 3" and "Lost Cowboys – from Patagonia to the Alamo".

Of Hank's performances the New York Times said:

"If you want originality, something that still has the bite and twang that drained out of so much country, the sharp cutting wit and the rawness of hard country, then there is only one man to see. His name is Hank Wangford."