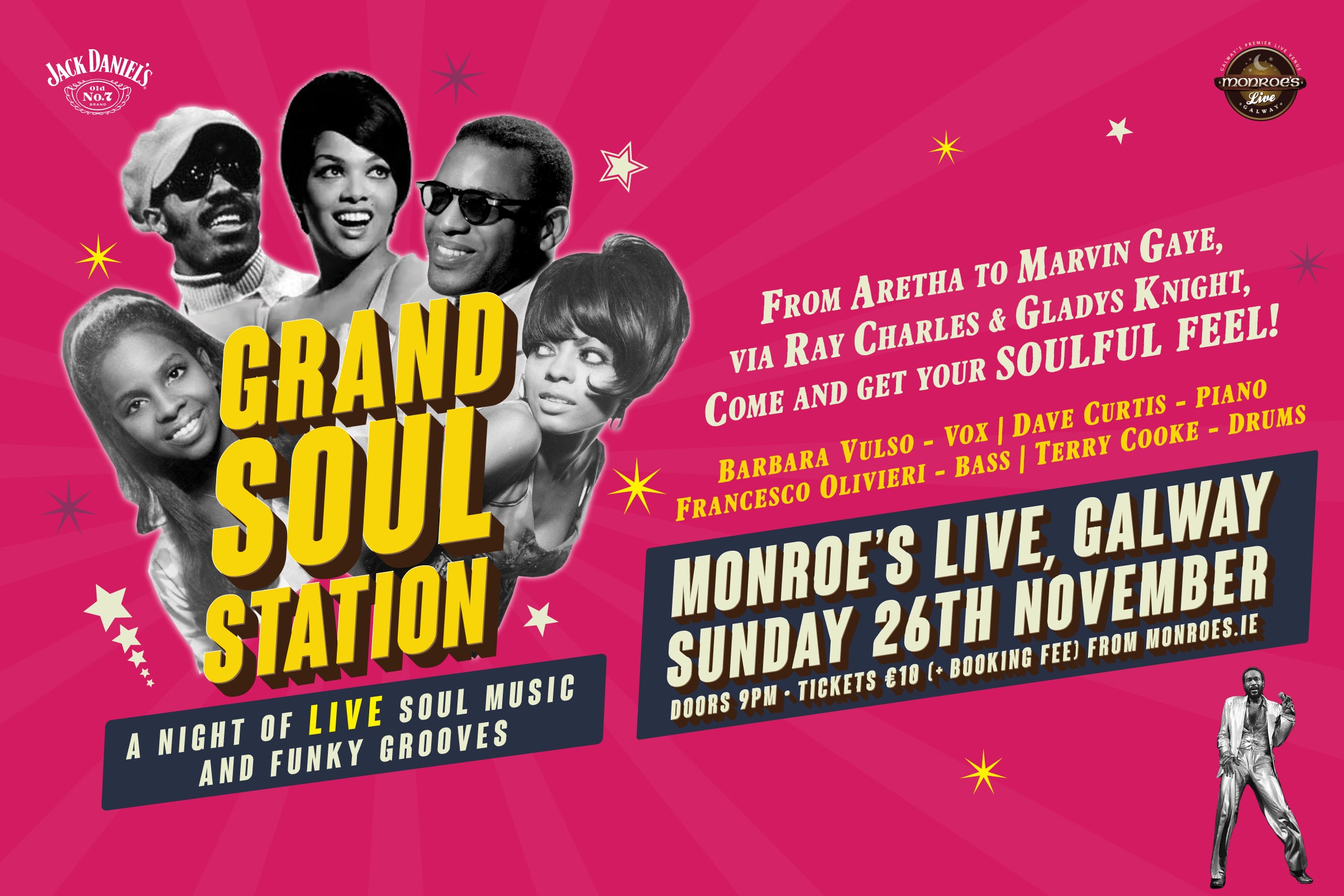 Monroes Live Presents
Grand Soul Station
Sun Nov 26 2023
Doors 9pm
Sun Nov 26 2023
Doors 9pm
Monroe's Live
14 Dominick St Upper, Galway, H91 WD2H
Galway, IE
Monroes Live Presents
Grand Soul Station
Please correct the information below.
Select ticket quantity.
Journey through the music of Aretha Franklin, Marvin Gaye, Chaka Khan, Ray Charles and more with Galway's new soul band, Grand Soul Station at Monroe's Live on Sunday, November 26th at 9pm.
From Motown to Stax, renowned singer Barbara Vulso will take to the stage with her powerful vocals.

Her performances are electrifying, whether in intimate jazz clubs or at prestigious festivals, she transports audiences to the emotional core of each song.

The Italian born artist possesses a unique combination of grit and tenderness, having started her music career at the age of 16.

In fact, her tone perfect delivery pays homage to her predecessors, while adding her own distinctive flavour to the genre.
"Our goal is to bring the best of soul music," she says, "with a high energy show that will get people dancing and singing along, through a selection of tunes, from classic Motown to modern neo-soul."

She brings her wealth of experience to the four-piece band, having performed for President Michael D Higgins, and at venues all over Europe with her blues band, Mama's Pit. 

Until 2020, she was well known across Ireland as the lead singer of the Black Magic Big Band and she currently fronts the popular Latin band, La Orquesta Kalamares.
The dynamic line-up of Grand Soul Station also includes the talented Dave Curtis on keys, Francesco Trincia Olivieri on bass and Terry Cooke on drums.

Curtis has a strong music lineage, composing music for a host of television channels including Bravo, Disney and National Geographic whilst recording and writing with an array of leading musicians.

A native of Galway city, drummer Terry Cooke began playing at the age of 7 and is one of the most sought after drummers and multi- percussionists in the country.

He has played on radio, television, touring productions, featured on numerous recordings across all genres and is renowned for his solid groove and feel within any style of music.

Electric and double bass player and music teacher from Genova, Italy, Francesco Trincia Olivieri has been living, studying and working as a musician in Italy, USA, Denmark and Ireland.

Trincia has collaborated on a vast number of projects during these years, from pop to indie and swing. Yet his heart belongs to soul, r'n'b, motown, funk and jazz.

"The band combines the individual experience of each musician," continues Vulso, "matured throughout the years on the biggest stages both in Ireland and internationally, united by the love of soul and funk."