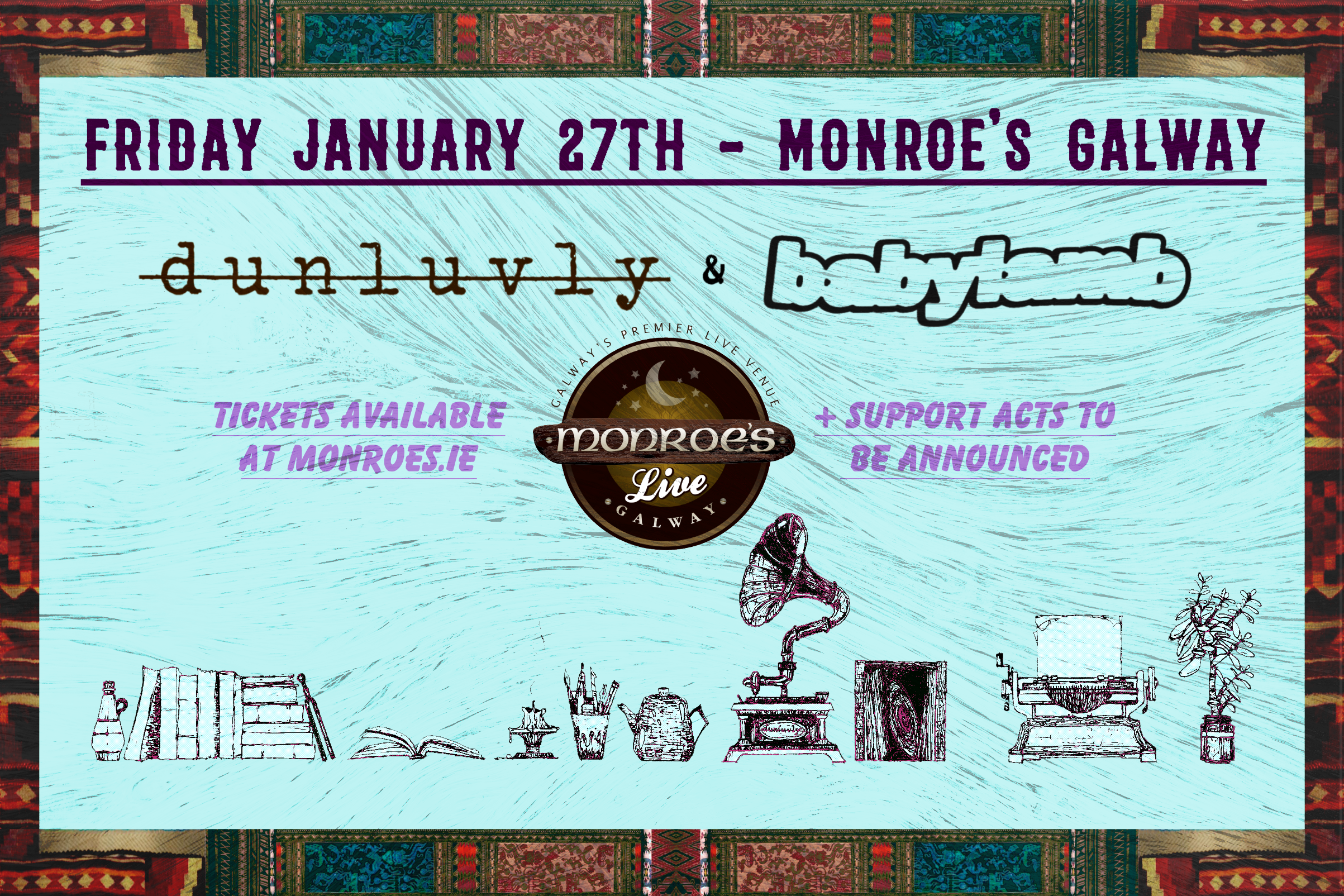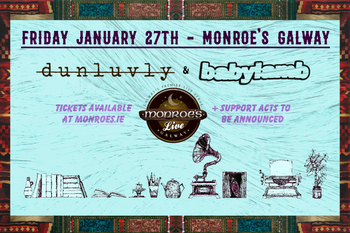 Monroes Live Presents
Dunluvly & Babylamb
Fri Jan 27 2023
8PM - 11PM
Fri Jan 27 2023
8PM - 11PM
Monroe's Live
Backstage Venue
Dunluvly & Babylamb
Monroes Live Presents
Dunluvly & Babylamb
Please correct the information below.
Select ticket quantity.
Dunluvly is a multi-instrumentalist and producer born and raised in Dublin, Ireland. With roots in traditional Irish music and psychedelic indie, his sound is often described as a sonically rich experience. He's a seasoned performer and has been playing regularly on the performance circuit of Dublin, Waterford, Tipperary, Kilkenny & Galway since 2016. He's had residencies in 3 bars along with many sold-out ticketed events under the artistry Dunluvly. Notably, the luvly band performed 3 sold-out shows in Monroe's (Galway), The Soundhouse and Whelan's (Dublin) in the last 3 months with Under Starling. Breaking onto the festival scene, Dunluvly also played in Waterford's Winterval Festival in December 2021.
The current variations of his music consist of two options; a solo set with a loop-pedal & various effects pedals or a 5-piece band with Rythm Guitar, Lead Guitar, Bass, Drums and Synthesizer Keys. He's expecting 2022 to be the year the band breaks onto the festival scene.
Babylamb are four fresh-faced, queer and extremely sad Irish newcomers who deserve riches and who produce their own songs.
A young queer Irish band in the midst of late-stage capitalist barbarism, flanked by ever-recurring economic catastrophes, various housing crises and violent far-right fringe movements, Babylamb is about kicking back and having fun with friends.
Lead vocalist and multi-instrumentalist band producer Tobias Barry curates the talents of hyper-pop inclined beat-maker Rían Stephens, dynamic vocalist Laoise Fleming, and huggable guitarist Cian King to instil the classic pop formula with a spirit of adventure and also depravity.