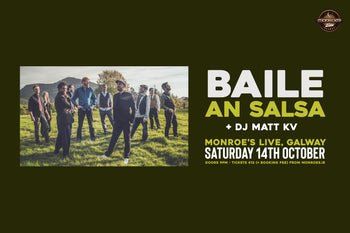 Monroes Live Presents
Baile An Salsa
Sat Oct 14 2023
10PM - 2.30AM
Sat Oct 14 2023
10PM - 2.30AM
Monroe's Live
Support & Afterparty: DJ Matt KV
Main Room
Monroes Live Presents
Baile An Salsa
Please correct the information below.
Select ticket quantity.
Baile An Salsa brings together an international mix of world-class musicians to deliver a distinctive blend of Latin rhythms and traditional Irish Music – a fusion which they call "Salsa-Trad." The musicians seamlessly blend their influences from Latin America, Europe and the United States to create a contemporary twist of traditional tunes with original compositions. Vocals in English, Spanish and Irish, provided by the band's founder, Andres Martorell, meld with the group's vibrant combination of instruments, creating a full, rich sound that is fun and danceable.
Baile An Salsa have enjoyed popularity worldwide since forming in 2012 in Galway city. Their self-titled debut EP received airplay and rave reviews at home in Ireland and as far away as Poland, South America, Singapore and China (where their songs were played at Salsa Festivals). This success was quickly followed by a live appearance on RTÉ1's "The Late Late Show" and the release of their first full length album, Tribú. The group has performed live on several radio and television programs, including a 2015 feature about the three year history of Baile An Salsa on TG4's "Imeall."
Their positive message of diversity and unity contributes to their growing appeal, which allows the band to perform at a variety of cultural gatherings. In Ireland and the USA, they have thrilled big crowds at concerts and festivals, including Kansas City Folk Fest, Kansas City Irish Fest, Galway Oyster Fest, Dublin's Temple Bar Trad Fest, Kilkee's Ché Do Bheatha Latin America Festival, Cork Gathering Festival, Galway Guinness Festival, and the Philadelphia Folk Fest where they had listeners dancing all the way up the hillside at the Main Stage. Powerful and engaging, Baile An Salsa's energetic and entertaining stage performance makes it nearly impossible for their audience to stay in their seats!
Multicultural Baile An Salsa recently combined several Latin styles, Irish trad and a little bit of funk to complete the recording of their second full length album. Produced by five time Grammy winner, Walter Flores, at the world famous Grouse Lodge in central Ireland, the new album features music performed and perfected over the past year.