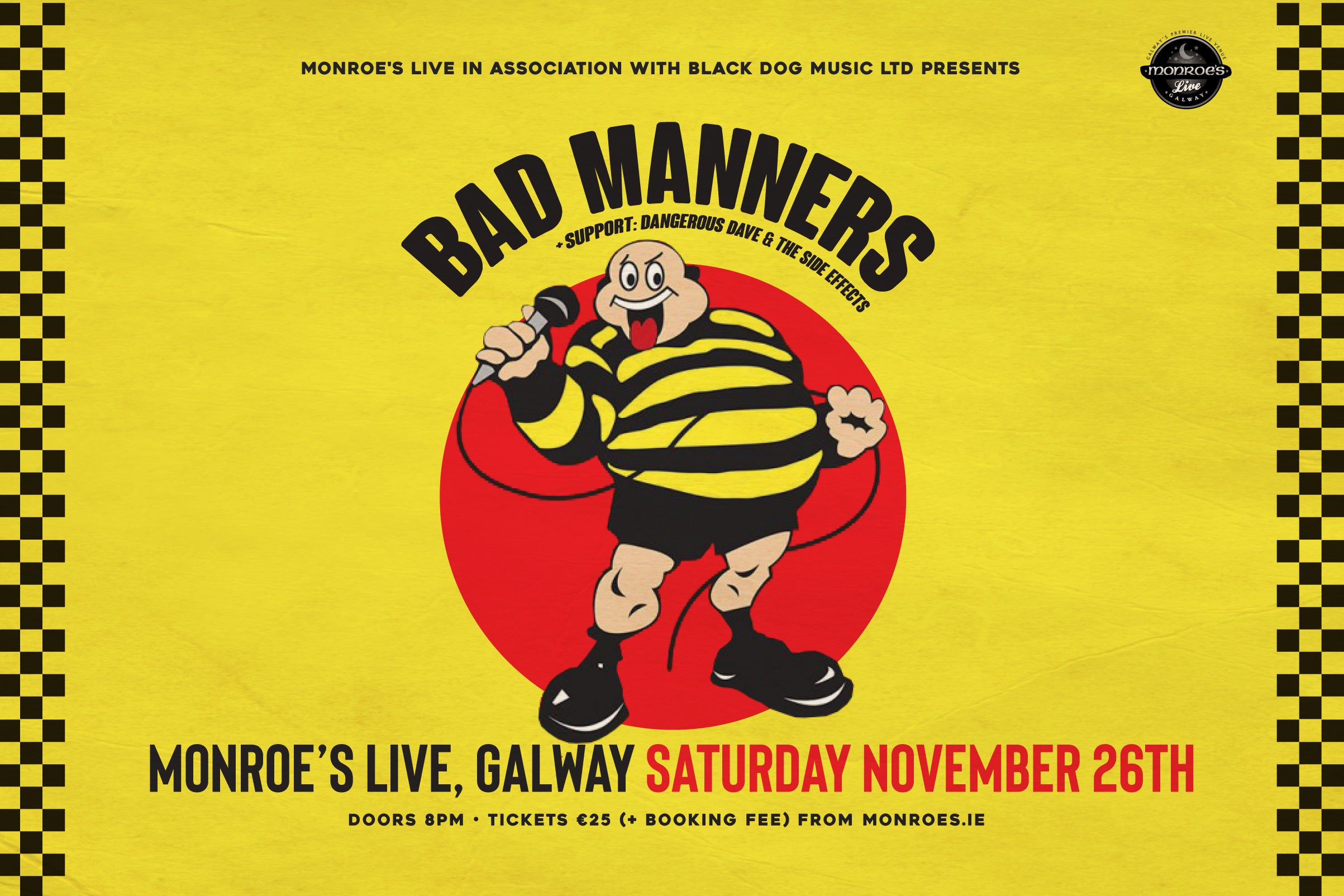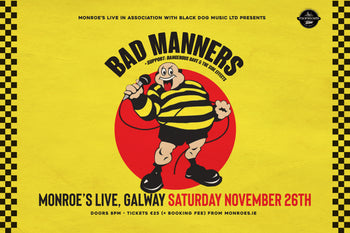 Monroes Live Presents
Bad Manners
Sat Nov 26 2022
8PM - 11PM
Sat Nov 26 2022
8PM - 11PM
Monroe's Live
Support: Dangerous Dave & The Side Effects
Monroes Live Presents
Bad Manners
Please correct the information below.
Select ticket quantity.
Bad Manners (formed in 1976) is an English ska band, who came to fame during the early 1980s among other such ska revival bands as Madness and The Specials, hailing from London, UK.

Formed in 1976 while members were still studying together at Woodberry Down Comprehensive School in North London, Bad Manners became one of the notable ska revival bands of the '80s. Frontman and vocalist Buster Bloodvessel, born Douglas Trendle, joined Louis Cook on guitar, David Farren on bass, Martin Stewart on keyboard, Brain Tutti on drums, Gus Herman on trumpet, Chris Kane on saxophone, and Andrew Marson on saxophone.

Drawing inspiration from late seventies ska bands including The Specials, Bad Manners soon became a notorious act known for their novel antics and frontman Bloodvessel's long tongue and shaved head, and who ended up getting the band banned from the UK's Top of the Pops. In 1980 the Bad Manners signed to Magnet Records and made appearances on the TV shows "Tiswas", "The British Music Awards" in 1981 and "Cheggers Plays Pop".

Despite being associated with the 2 Tone movement, the band never actually signed to 2 Tone Records, although were one of six bands to feature on the legendary documentary film "Dance Craze" in 1981. The bands first three albums have all been certified silver, 1980's "Ska 'n' B" and "Loonee Tunes!", and "Gosh It's… Bad Manners" in 1981. The latter of which proved to be the band's most popular release reaching No. 18 in the UK album chart. Following the release of their fourth album "Forging Ahead" in 1982, Bad Manners departed from Magnet Records and moved to Portrait records through which they released their 1985 album "Mental Notes". Following the release as they did with their previous albums, Bad Manners toured continuously around the world however, due to falling sales and acclaim, decided to disband in 1987.

Bad Manners returned and subsequently released "Return of the Ugly" in 1989, "Fat Sound" in 1992, "Heavy Petting" in 1997 and "Stupidity" in 2003. Along with album releases the band has released a stack of singles, of which notable hits include "My Girl Lollipop", "Lip Up Fatty", "Can Can" and "Special Brew".