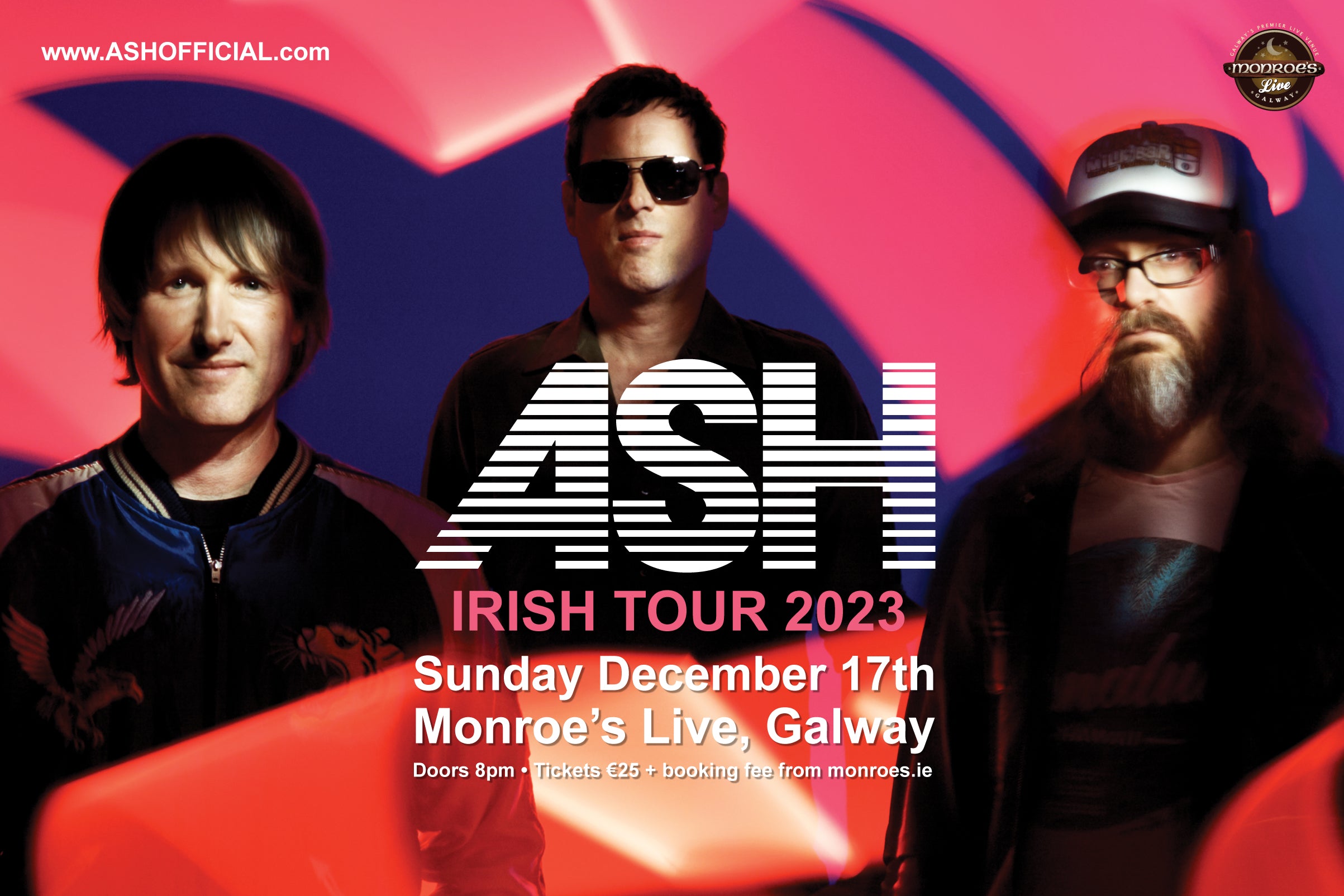 Monroes Live Presents
Ash
Sun Dec 17 2023
8PM - 11PM
Sun Dec 17 2023
8PM - 11PM
Monroe's Live
14 Dominick St Upper, Galway, H91 WD2H
Galway, IE
Monroes Live Presents
Ash
Please correct the information below.
Select ticket quantity.
Formed in Downpatrick, County Down in 1992, the punk-pop group has had an impressive career spanning over thirty years. Still at the top of their game, Ash has just announced their headline gig at Monroe's Live, Galway on the 17th of December 2023. 

Ash came to fruition when the band was only fifteen. Within two years they were signed to Infectious Records and released the Trailer EP which included "Intense Things," "Get Out," "Intense Thing," and "Obscure Thing." The band released their album 1977 in 1996 which was named by NME as one of the 500 greatest albums of all time.

 In the summer of 1997, Ash played Glastonbury Festival at twenty. The bassist Mark Hamilton became the youngest person ever to perform at the festival. Ash also secured slots at major festivals such as T in the Park, Roskilde, and Reading. The band toured relentlessly and played gigs across the globe.

In 2006 Ash began working in New York on their first album after returning to their original lineup. The band stated that Twilights of the Innocents would be the last album and they would only release singles from then on. In 2009 the band began their A-Z Series which saw them releasing a new single every two weeks until all 26 singles were released.

 The band celebrated their 20th-anniversary tour with a sold-out show in the Garage, London. In 2014 the band played with Weezer for some of their US dates. They also went on to play their own headline shows on the East Coast.

To fans' shock and delight the band released their album Kablammo! in 2015 despite saying they would never release another album. 

Since then the band have released multiple singles and remastered versions of their most popular works. The band's most recent release was the Dragon Empire EP. This was released in 2023 and included six songs.